By far "The Largest" [2550 Sq Ft] Terrasol 2BR condo
This Unit [167] with either Unit 168 or Unit 169 - groups rent as 2 or 3 x 2-bedrooms "Steps from each other"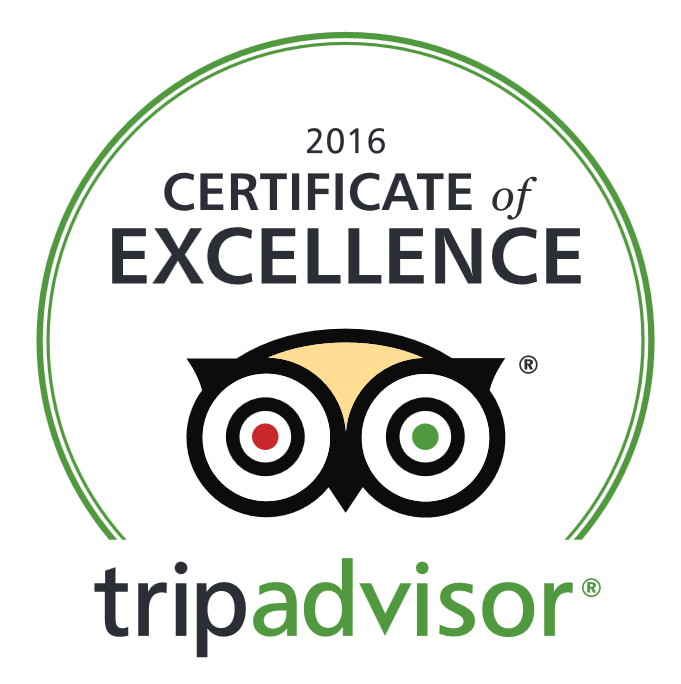 Terrasol Beach Resort
Very Good 4 out of 5
"Certificate of Excellence"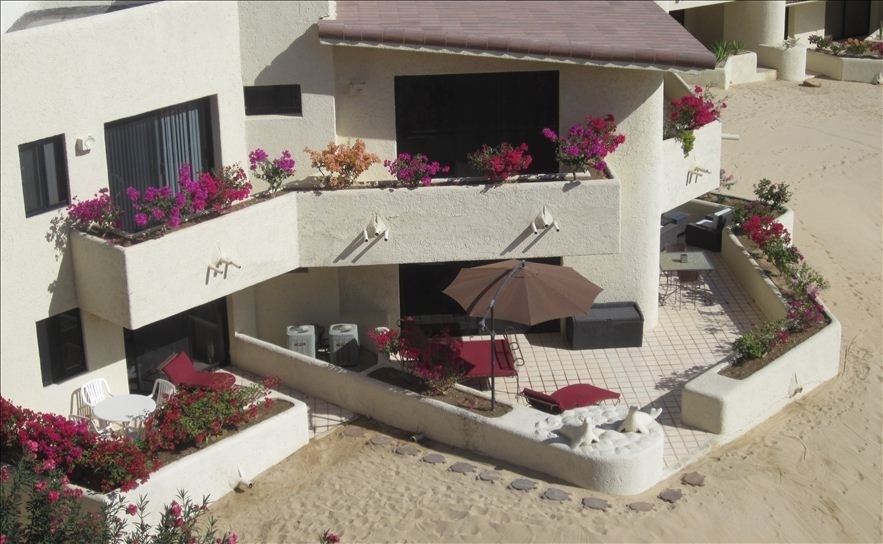 Condo #167
Click Here For Rates
Read Reviews
Click on the first image below to see a slide show of this unit.
'YES' - we have FREE 'SKYPE', WI-FI in the condo, Big-Screen SATELLITE TV, and we accept ALL Major Credit cards !!
OUR CONDO:
• Is built 'on' the beach, less than a KM from the tip of the Baja Peninsula.
• Of all the 2BR units at TERRASOL, we have the largest unit by far, our unit at over 2500 sq. ft. is about 1000 sq. ft. larger than most
other 2BR's, this because we have an end unit, very private, with wrap-around decks
• The North, West and South sides of our condo, are all enveloped by decks - all rooms opening onto the decks - and from there, walk
onto beach sand,100 meters from the pools & 150 meters from the ocean.
• Is deluxe, furnished with authentic Pueblo Mexican craft from wrought iron furniture and tables to wall hangings and hand-woven
rugs, planters, crockery, and wall cabinet-credenzas.
• Sleeping arrangements include 2 Master BR's with large king-size beds in each and large private bathrooms, both opening onto
decks a L-Shaped Sectional in the lounge [see photos] with two single beds, one 7'6' long, the other 6'2' [2'6' wide], as well, we have
a fold-away single, 2 single chaises and a queen chaise on decks, for sleeping 'under the stars' in the summer
• Sleeping capacity: 6 people
• The kitchen is very large, open and fully-equipped.
• We have a Gas BBQ on Deck - see PDF provided with Reservation for Gas Replacement when required.
• All of our condos are "non-smoking" indoors - you are welcome to light up on the outside decks, with doors closed.
CONNECTED:
• WI-FI: We have added WIFI to unit 167 - giving you High-Speed, password-protected Secure Internet Access in the condo and
on both the Main & Sky Decks.
• SATELLITE TV: We have added a Wide-Flat-High-Def Screen TV to the unit, with hundreds of channels, feeds from East & West
Coast, all theSports, Networks, News, Movies, Adult & Kid Channels
• PHONING: With WI-FI, if you download SKYPE onto your Laptop of I-Phone, you can phone free to friends & family, from 167
RATES [in US$'s]:
| | |
| --- | --- |
| SEASONS | |
| • Jan-Apr: | $285/night, $1850/wk, 2 wks for $3300 |
| • May-Jul: | $225/night, $1550/wk, 2 wks for $2750, 4 wks for $4800 |
| • Aug-Sep: | $200/night, $1380/wk, 2 wks for $2400, 4 wks for $4400 |
| • Oct-Dec: | $255/night, $1750/wk, 2 wks for $3150, 4 wks for $5500 |
| • Xmas & New Year Weeks: | $2950/wk [Dec 19-20 to 26-27, Dec 26-27 to Jan 2-3] |
| TERMS | |
| • SECURITY DEPOSIT: | Most Vacation Rental Owners require this - we DO NOT |
| • IMPORTANT: | Rates Include Terrasol Nightly Rental Fees & Mexican 16% IVA Taxes |
| • PAYMENT: | 50% Deposit with reservation, balance 60 days prior to arrival |
| • CREDIT CARDS: | Through PAYPAL [secure site] by MC, VISA or AMEX |
| • RENTALS FOR UNDER $1,000: | Bookings for less than $1,000 - 100% due with Reservation, not 50% |
Note: Until confirmed, rates are subject to change without notice.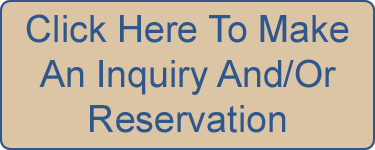 ---
Reviews form our community

"Perfect stay in Units 236 and 167"
Guest: CindyCOct2012 - Stayed November 2016, traveled with family
We rented Units 167 and Unit 236 at Terrasol for two weeks in November 2016 and my family and I are extremely happy with that decision. Highly recommend both units. We will be back!

We loved that Unit 167 had no stairs and we could walk right out of the unit onto our large, private patio for our morning coffee. It was quiet and peaceful, making us feel like we were in our own world but a leisurely 5-7 minute walk to downtown and we had great shopping, restaurants & a lively nightlife of clubs and bars.

Unit 167 was spacious and well equipped so we could cook our own meals and eat inside the air conditioned unit or sit outside on the patio, and cook on the gas barbecue. We loved having breakfast at the Terrasol beach restaurant. Mario and his team made the greatest pancakes with his secret ingredients of pineapple juice and coconut milk. At $6.00 USD it was tremendous value.

The second unit our family was in was Unit 236. It was the only unit at Terrasol with a fantastic rooftop deck. They would sit for hours watching the fishing boats, and smaller local boat traffic off the marina side view and, cruise ships pass by on the ocean side. In addition to beautiful sunsets, they could see the evening lights of Cabo from their rooftop.

Every night they would walk down to the ocean with a glass of wine and then head back to their unit to sleep with the windows wide open. They loved hearing the sound of the ocean and having a quiet dip in the pool all to themselves. The unit is bright and cheery.

The unit owner "Lori" gave us great ideas of things to do and restaurants to check out and "Craig" was incredibly informative through the Reservation-process
---

"Great Condo!"
Guest: Gayle McLernon - Stayed June 2016, traveled with family
We recently stayed in unit 167 and had a great visit. The condo was roomy and well stocked. The wrap around deck was amazing and the grounds were beautiful. The owner, Craig, was very helpful with booking and with information about the area. The staff was quick to respond to requests. The resort was quiet and private but within quick walking distance to town. The swimming pools were nicely maintained. Definitely would love to return!
---

"Close to town.....Great location!"
Guest: Judy Petersen, Olympia Wa., Stayed March, 2016
We have spent our winter vacation in Cabo for years . This year we decided to try something new and booked our time with the Harrison's and stayed at Terrasol [Unit 167 with large wrap-around decks] .....and we were so happy we did! Craig made the reservation process so quick and easy. When we arrived we were very impressed by the helpful staff.
The condo is beautiful, has great outdoor deck areas and is just a short walk over the beach to the pool, ocean. The unit had everything we needed. It is located very close to town, restaurants are within walking distance. We loved our time here and have already booked for a return trip!!!
---

"Great Location. Close to town"
Guest: Linda & Mike S - Washington State, Stayed Feb 3, 2016
Terrasol, nestled between two large resorts on the Pacific Ocean side, is a quiet respite away from the bustle of Cabo. It has been our winter destination for the past 7 years. The Terrasol staff are helpful from Mario in the Palapa bar to Carlos or Esther at the front desk. It is a quick walk to town to where all the restaurants and activities take place. Be sure to check out Misiones de Kino for dinner. Always one of our favorites. Or for cooking in, take advantage of the local produce and seafood markets as well as the tortilla factory.
The condo is spacious with great outdoor seating where you can enjoy the beautiful sunrises or the stars at night. For spectacular views of the whales to sunsets, you have only to walk a few steps to the beach where you can sit in the many lounges and take it all in. The Harrisons met all our needs and made booking easy. We found several items missing in the condo and when the Harrisons were contacted, they were responsive and had the items delivered by the next day. 3 week this year, we will be back for a month!
---

"Terrasol #167, 2 bedroom with warp around deck [on the beach]"
Guest: Suzanne B - Palmer, Stayed March 2013
We just returned from a great week in Cabo San Lucas and love staying at the Terrasol Resort. Just steps to the sand, a large warp around deck with flowering plants and a peak at the ocean. Listening to the waves, the soft breeze and the gentle sun refreshed, "we will return."
Room Tip: Condo 167 with the wrap around deck - Amazing ........ walk onto the beach !!
---

"Great place! Great location."
Guest: Enrique - Pasadena, CA, Stayed August 2012
This place is amazing! It's quiet away from town, but walking distance into town. My kids loved it! Bring your family here, you won't regret it. We saw turtle laying their eggs on the beach everyday. Baby turtles hatching right on the beach. The 2 pools were great. Mario the bartender makes great food for under $5 a meal. We used the pool at the grand every evening. The condo itself was very nice and well appointed.
Recommended for: Families with teenagers, age 55+, families with young children, tourists without a car.
---

"A Great Time was Had!"
Guest: Luv to Travel - Vista, CA/USA, Stayed July 2012
Spacious and clean! This unit is perfect for 2 couples to share! The owners are extremely responsive and the staff at Terrasol was very accomodating! We would definitely consider a return trip!
Recommended for: Age 55+, families with young children, girls getaway, tourists without a car.
---

"WOW - what a stunning Terrasol condo ........ !!"
Guest: Stevo - Australia, Stayed February 2012
I have just returned for my 3rd trip to Cabo in as many years and every time I've stayed at Terrasol, I've stayed in different units. However, I tried booking into the unit I stayed in last time [vrbo #4623] because of the fabulous roof-deck, but it was full, the owners' had recently purchased and renovated this newer unit - and gave me a deal to try it out [2BR for the price of their full 1BR]l as it was newly renovated, decorated ....... Of all the units I have stayed in at Terrasol, there is nothing that comes close in terms of "sheer & space", as this one - two large masters, the interior design is meticulous to a point, it is so clean and pristine, and the decks, spilling out onto the beach ..................... being an end unit - simply unique !! And it's a quiet and secluded unit, perfect for relaxation - we meditated outside every morning, and saw or heard no-one !! We will be back - have already reserved for next year, so we don't miss out on this unit, where we [two couples, and two younger kids], had a great time Thanks Cabo - Terrasol for another wonderful trip
Recommended for: Romantic getaway, families with young children.