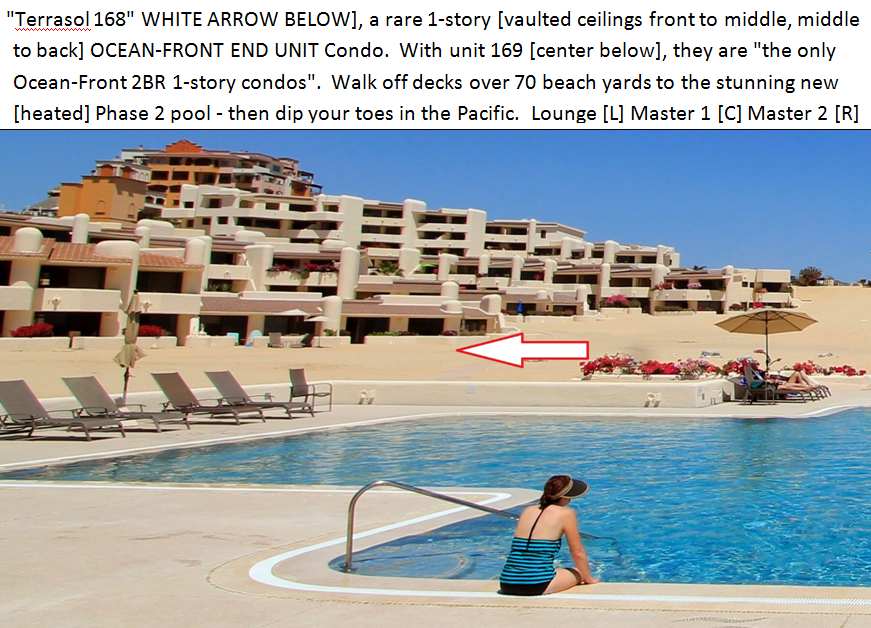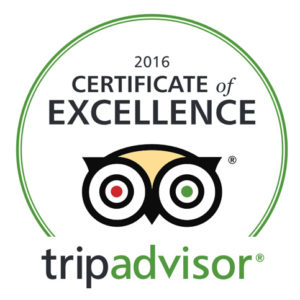 Terrasol Beach Resort
250 reviews
Very Good 4 out of 5
"Certificate of Excellence"
01/04/2017:  "Excellent Resort"
11/11/2016:  "Great location"
Remodeled Ocean-Front 2BR
Stunning Remodeled Large 2000 sq. ft. 2BR. This is one of only 2 Terrasol Ocean-Front, single-story condos. Vaulted ceilings front to middle & middle to back !!
This Unit [168] is steps from Unit 167 and next to Unit 169 – groups rent 2 or 3 x 2 bedrooms "Steps from each other"
Condo #168
'YES' – we have FREE 'SKYPE', WI-FI in the condo, Big-Screen SATELLITE TV, and we accept ALL Major Credit cards !!
OUR CONDO:
Is built 'on' the beach, less than a KM from the tip of the Baja Peninsula.
The perfect location is OCEAN-FRONT, the perfect condo is one with Vaulted Ceilings – there are only 2 x 2BR's in Terrasol that have both: Units 168 and 169 !!
A unique single-story, "Ocean-Front", newer Terrasol Phase 2 condo – with vaulted-ceilings Front to Middle & Middle to Back
The only unit that has 2 x Large Master BR's, both with ocean-views and wrap-around decks !!
Recently renovated [late 2014], this unit has a very large deck that wraps-around, opening from Living Room and 1 of the 2 Master Bedrooms
Ocean-Front: Walk straight from deck onto the beach, 50 meters to the pool and another 75 to ocean-waters' edge
Is tastefully furnished and comfortable, functional
Sleeping arrangements include 2 large Master BR's, both with large king-size beds and large private bathrooms, decks – both with beach-ocean views from the beds. There is also a queen fold-out sofa bed in the Lounge
48 inch Samsung Satellite TV
2 x Large bathrooms
Sleeping capacity: 6 people
The kitchen is open-plan, very large, with a view to deck, beach and ocean, modern and fully-equipped
Washer Dryer in unit
Mini-split AC's throughout the condo
All of our condos are "non-smoking" indoors – you are welcome to light up on the outside decks, with doors closed.
We have a Gas BBQ on Deck – see PDF provided with Reservation for Gas Replacement when required
In short: "Every detail has been thought of throughout this condo, to afford you a luxurious & comfortable experience throughout your stay" !!
CONNECTED:
WI-FI: We have added WIFI to unit 168 – giving you High-Speed, password-protected Secure Internet Access in the condo and on both Decks.
SATELLITE TV: We have added a Wide-Flat-High-Def Screen TV to the unit, with 100's of channels, US/Canadian feeds from East & West Coast, all the Sports, Networks, News, Movies, Adult & Kid Channels – both Masters have private TV's as well
PHONING: With WI-FI, if you download SKYPE onto your Laptop or iPhone, you can phone free to friends & family, from 168
Rates (in US$):
Seasons
Jan-Apr: $355/night, $2395/wk, 2 wks for $4500
May-Jul: $285/night, $1895/wk, 2 wks for $3500, 4 wks for $6500
Aug-Sep: $255/night, $1595/wk, 2 wks for $3000, 4 wks for $5500
Oct-Dec: $325/night, $2150/wk, 2 wks for $4000, 4 wks for $7000
Xmas & New Year Weeks: $3995/wk [Dec 19-20 to 26-27, Dec 26-27 to Jan 2-3]
Terms
SECURITY DEPOSIT: Most Vacation Rental Owners require this – we DO NOT
IMPORTANT: Rates Include Terrasol Nightly Rental Fees & Mexican 16% IVA Taxes
PAYMENT: 50% Deposit with reservation, balance 60 days prior to arrival
CREDIT CARDS: Through PAYPAL [secure site] by MC, VISA or AMEX
RENTALS FOR UNDER $1,000: Bookings for less than $1,000 – 100% due with Reservation, not 50%
Note: Until confirmed, rates are subject to change without notice.
Reviews

"unit 168, ground floor, ocean view, nice wrap-around patio!"
Guest: Russ55760, McGregor, Minnesota.    Stayed Feb, 2018
Terra Sol is wonderful, quiet, gorgeous. Breakfast daily in the Pallapa bar is a joy & wonderful food. Was seamless booking w/ Mr. Harrison. 2 master suites in this unit, perfect for my family. Fully (nicely) equipped kitchen that we did not use, too much fun going out to eat. This was our 28th trip to wonderful Cabo, 3rd time @ Terra Sol. We generally walk to town, but cabs are real easy too.

"Great location-Very quite-single story"
Guest: Beatriz, Santa Rosa, Calif.    Stayed May, 2017
This condo is very relaxing. It is an end unit and is a single story, it is very quite inside with no one above you. You walk out onto the sand from each bedroom and living room. Both bedrooms face a the ocean. This condo has an ideal location with in Terrasol. I will return.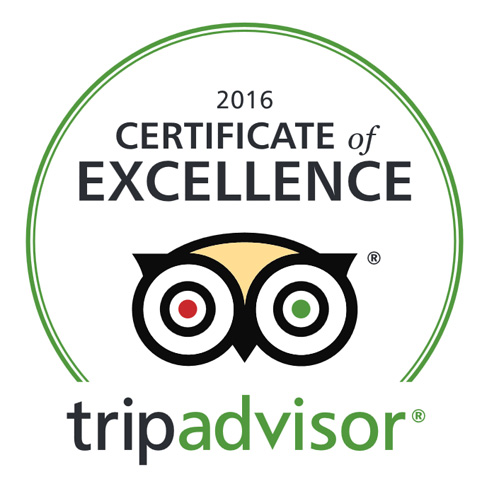 TERRASOL BEACH RESORT
Photos of Terrasol Beach Resort
Depending on whether you are one couple, a couple with younger kids, a group of six or larger groups requiring multiple units – we have it all!
Below are the condos that are next to each other or steps apart.
Groups: Book Early!