Fabulous Ocean-View 2BR - total re-design, contemporary & stylish
This Unit [219] is above Unit 120 - groups rent both as 2 & 3 bedrooms "Up-Down"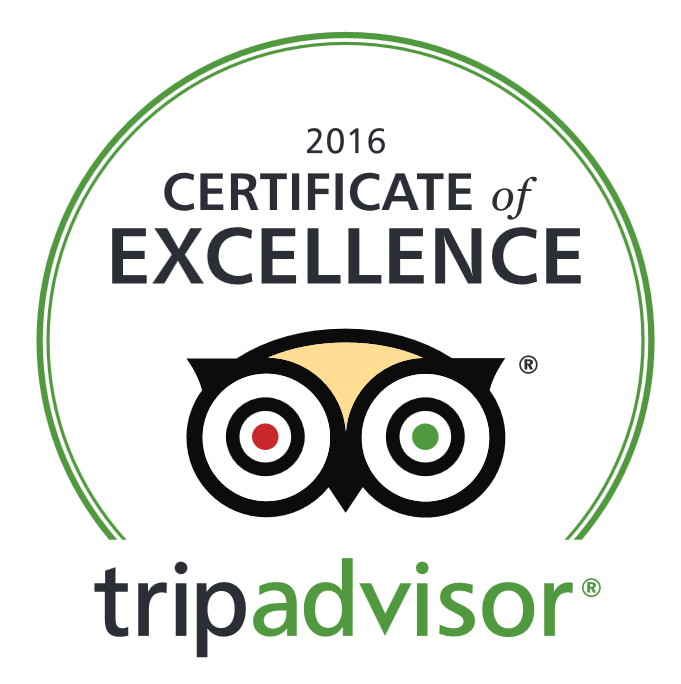 Terrasol Beach Resort
Very Good 4 out of 5
"Certificate of Excellence"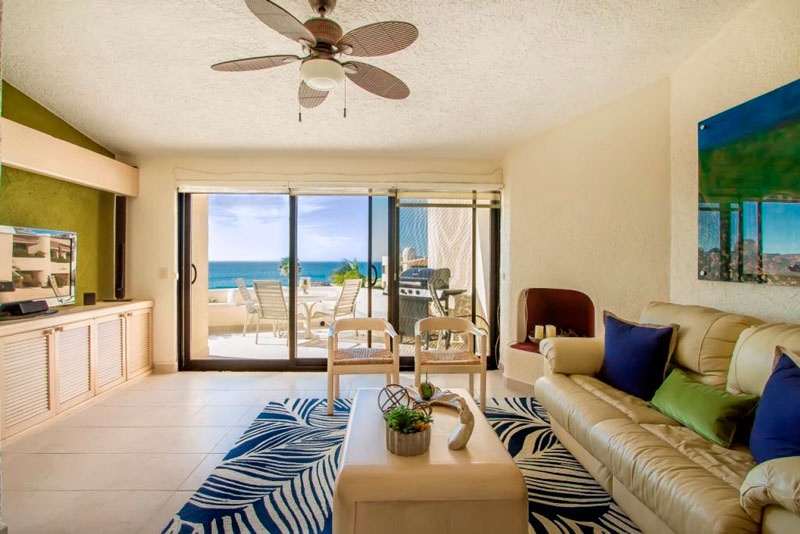 Condo #219
Click Here For Rates
Read Reviews
Click on the first image below to see a slide show of this unit.
'YES' - we have FREE 'SKYPE', WI-FI in the condo, Big-Screen SATELLITE TV, and we accept ALL Major Credit cards !!
OUR CONDO:
• Is built 'on' the beach, less than a KM from the tip of the Baja Peninsula.
• Recently remodeled [late 2016], this unit has vaulted ceilings, a front wrap-around deck - full on pool and ocean-beach
views from virtually every room
• You can walk onto beach sand within meters of our condo - 25 meters over beach to either the 1st or 2nd pool and another
75 meters to the edge of the ocean.
• Is tastefully furnished with fine authentic Mexican craft and modern artwork, comfortable and tasteful furniture and tables,
stunning wall hangings, planters, crockery, and cabinetry.
• Sleeping arrangements include 2 Master BR's, both with large king-size beds and bathrooms, plus 2 leather sleeper-sofas, one
a double and the other a twin
• Sleeping capacity: 6 people
• 60 inch High-Def. TV
• The kitchen is open, with a view to deck and ocean, modern and fully-equipped.
• Washer Dryer in unit.
• Dimming and recessed lights throughout the apartment.
• All of our condos are "non-smoking" indoors - you are welcome to light up on the outside decks, with doors closed.
• We have a Gas BBQ on Deck - see PDF provided with Reservation for Gas Replacement when required.
In short: "Every detail has been thought of throughout this condo, to afford you a luxurious & comfortable experience throughout your stay" !!
CONNECTED:
• WI-FI: We have added WIFI to unit 219 - giving you High-Speed, password-protected Secure Internet Access in the condo and on
the wrap-around Deck.
• SATELLITE TV: We have added a Wide-Flat-High-Def Screen TV to the unit, with 100's of channels, US/Canadian feeds from East
& West Coast, all the Sports, Networks, News, Movies, Adult & Kid Channels
• PHONING: With WI-FI, if you download SKYPE onto your Laptop or iPhone, you can phone free to friends & family, from 219
RATES [in US$'s]:
| | |
| --- | --- |
| SEASONS | |
| • Jan-Apr: | $375/night, $2495/wk, 2 wks for $4700 |
| • May-Jul: | $315/night, $1995/wk, 2 wks for $3750, 4 wks for $6800 |
| • Aug-Sept: | $275/night, $1750/wk, 2 wks for $3300, 4 wks for $5700 |
| • Oct-Dec: | $345/night, $2295/wk, 2 wks for $4300, 4 wks for $7500 |
| • Xmas & New Year Weeks: | $3950/wk [Dec 19-20 to 26-27, Dec 26-27 to Jan 2-3] |
| TERMS | |
| • SECURITY DEPOSIT: | Most Vacation Rental Owners require this - we DO NOT |
| • IMPORTANT: | Rates Include Terrasol Nightly Rental Fees & Mexican 16% IVA Taxes |
| • PAYMENT: | 50% Deposit with reservation, balance 60 days prior to arrival |
| • CREDIT CARDS: | Through PAYPAL [secure site] by MC, VISA or AMEX |
| • RENTALS FOR UNDER $1,000: | Bookings for less than $1,000 - 100% due with Reservation, not 50% |
Note: Until confirmed, rates are subject to change without notice.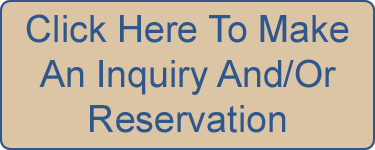 ---
Reviews form our community

"Cabo adventures"
Guest: jean2014P, Naperville, Illinois January 2018, traveled with family
We rented a 2 bedroom condo @ Terrasol, room 219. Condo was comfortable with plenty of dishes/glassware and cookware. Living and dining area are perfect for relaxing and enjoying drinks and food. King beds were comfortable and the bathrooms were updated and had plenty of hot water. Washer/dryer unit a plus. Closets could have used a few more hangers. The view from the balcony is breathtaking. We enjoyed almost every meal/snack and down time on the balcony enjoying the view and sounds of the ocean. Just beyond the pool is the beach where we saw beautiful sunrise and sunsets. We were able to see whales from our location and walked the beach to climb over the rocks to Divorce Beach and then onto Lovers Beach.
Terrasol is easy walking distance to the marina and downtown Cabo. We enjoyed walking everywhere and even climbed Mt. Solmar and walked to the local swimming beach which was just a few minutes away. The Terrasol staff was always friendly, professional and ready to help. Booking was easy with Craig and we did utilize his recommendations. You cannot swim in the ocean at this location but Terrasol has 2 fantastic pools and the swim up bar and restaurant will not disappoint. The palapa bar serves the best food and drinks. Mario at the bar/restaurant will take great care of you. They boast having the best pancakes and they are really pretty good! Overall, we had a wonderful experience and would recommend Terrasol for anyone or family looking for privacy, quiet and gorgeous views.
---

"Great family vacation!"
Guest: Jvrab, December 2017, traveled with family
This was our first time at Terrasol and we really enjoyed it. We stayed in Unit 219 - it was beautiful and had great views of the ocean and easy access to pool. The location of Terrasol is ideal for walking to the marina and into town.
---

"Diamond on the Beach"
Guest: bfarhangui1, Stayed December, 2016
There a very few properties that I have ever visited that have so many superlatives. As a family that loves to travel its very difficult to find something that is affordable, and as beautiful as Terrasol, and especially unit 219. The condo has lots of room and has been completely renovated, with all new appliances and amenities.
As I'm writing this, my wife is dying for me to tell you about the whales we saw breaching off the shoreline right in front of us as well as the amazing sunsets. The weather was perfect, and we kept the windows open at night to hear the crashing of the waves. This has to be one of the nicest units at Terrasol, and our only regret was that we wished we could have stayed another week. We have already spoken with the owners about coming out again in March. Love it, love it, love it!
PS: The pancakes and chiliquiles at the grill are amazing. Say hi to Mario! He is great!
PPS: He will also cook up any fish you catch....mmmm, best Dorado ever!
Room Tip: Best rooms have a view of the ocean. 2nd floor offers a bit more privacy.
---

"Feeling Terrificly Relaxed in Terrasol Unit 219"
Guest: Celeste T., Stayed December, 2016
We have rented Terrasol unit 219 on several occasions and just can't get enough of it! Perfect wide ocean view as well as a view of the pool! When you first walk in, there's a kitchen filled with modern amenities as well as a washer dryer that makes everything so much better! That's not the only good thing about this place.. We were welcomed with a very charming host to check us in, and it made us feel like we were at somewhere very exclusive. In fact, it feels like that all throughout the stay with the peace and quiet.
If you wanted somewhere a little more rowdy, there are two resorts on either side that provide pool parties in the day also! It's a quick 10 minute walk to downtown Cabo where we had partied the night away at places like El Squid Roe and Mandala, then simply walked back up to our unit. Not to mention, the unit itself is very welcoming with its modern new furnishings and furniture very tasteful and the resort is tended to every day by gardeners. It feels like Santorini with a Cabo flair :)
I thought I'd share our experience with you all as we cannot wait to go back again! It's so easy to book and a very practical price for what you are getting! If you're looking for a romantic getaway, or a fun time with family and friends- either way Terrasol has you covered ;)
Room Tip: High floors have better views of the ocean!
---