"Turtle's Nest" Remodeled 2BR
Stunning 2BR - total re-design, contemporary in every sense
This Unit [207] is above Unit 107 - groups rent both as 2 x 2 bedrooms "Up-Down"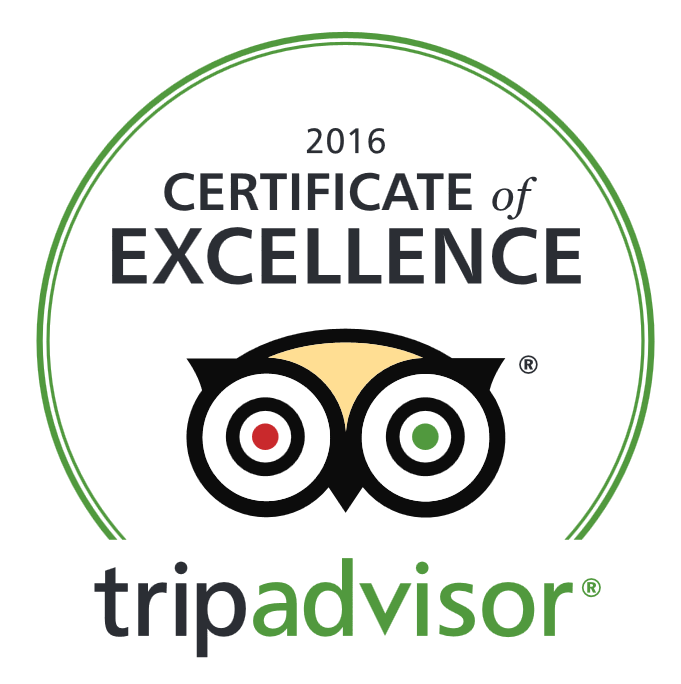 Terrasol Beach Resort
Very Good 4 out of 5
"Certificate of Excellence"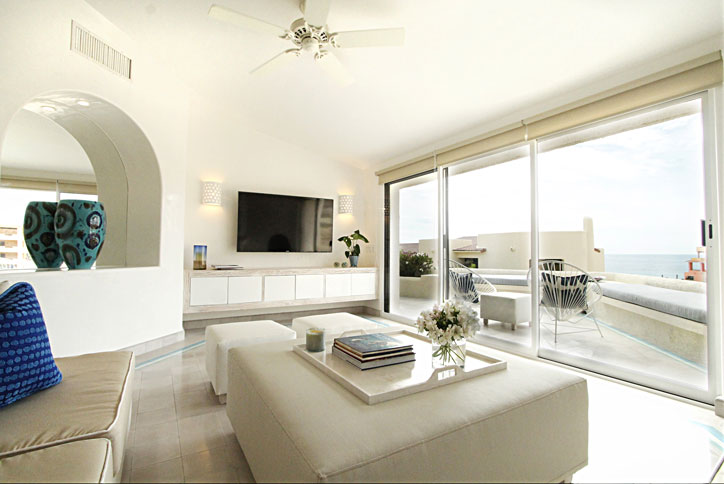 Condo #207
Click Here For Rates
Read Reviews
Click on the first image below to see a slide show of this unit.
'YES' - we have FREE 'SKYPE', WI-FI in the condo, Big-Screen SATELLITE TV, and we accept ALL Major Credit cards !!
OUR CONDO:
• Is built 'on' the beach, less than a KM from the tip of the Baja Peninsula.
• Recently remodeled [late 2013], this unit has vaulted ceilings, a front wrap-around deck and two more private decks off each
Master Bedroom.
• You can walk onto beach sand within 50 meters of our condo - 75 meters over beach to either the 1st or 2nd pool and another
75 meters to the edge of the ocean.
• Is tastefully furnished with fine authentic Mexican craft and modern artwork, comfortable and tasteful furniture and tables,
stunning wall hangings, planters, crockery, and wall cabinet-credenzas.
• Sleeping arrangements include 2 Master BR's, both with large king-size beds and private bathrooms, both opening onto decks.
• Sleeping capacity: 4 people
• 60 inch Samsung High-Def. TV
• 1st Master has a Jacuzzi Bath ......... Rain showers in both bathrooms, hand held in Master.
• Sleeping capacity: 4 people only.
• The kitchen is open, with a view to deck and ocean, modern and fully-equipped.
• Washer Dryer in unit.
• Dimming and recessed lights throughout the apartment.
• All of our condos are "non-smoking" indoors - you are welcome to light up on the outside decks, with doors closed.
• We have a Gas BBQ on Deck - see PDF provided with Reservation for Gas Replacement when required.
In short: "Every detail has been thought of throughout this condo, to afford you a luxurious & comfortable experience throughout your stay" !!
CONNECTED:
• WI-FI: We have added WIFI to unit 207 - giving you High-Speed, password-protected Secure Internet Access in the condo and
on both Decks.
• SATELLITE TV: We have added a Wide-Flat-High-Def Screen TV to the unit, with 100's of channels, feeds from East & West Coast,
all the Sports, Networks, News, Movies, Adult & Kid Channels
• PHONING: With WI-FI, if you download SKYPE onto your Laptop or iPhone, you can phone free to friends & family, from 207
RATES [in US$'s]:
| | |
| --- | --- |
| SEASONS | |
| • Jan-Apr: | $365/night, $2395/wk, 2 wks for $45200 |
| • May-Jul: | $295/night, $1950/wk, 2 wks for $3600, 4 wks for $6700 |
| • Aug-Sept: | $265/night, $1650/wk, 2 wks for $3200, 4 wks for $5500 |
| • Oct-Dec: | $335/night, $2195/wk, 2 wks for $4100, 4 wks for $7200 |
| • Xmas & New Year Weeks: | $3995/wk [Dec 19-20 to 26-27, Dec 26-27 to Jan 2-3] |
| TERMS | |
| • SECURITY DEPOSIT: | Most Vacation Rental Owners require this - we DO NOT |
| • IMPORTANT: | Rates Include Terrasol Nightly Rental Fees & Mexican 16% IVA Taxes |
| • PAYMENT: | 50% Deposit with reservation, balance 60 days prior to arrival |
| • CREDIT CARDS: | Through PAYPAL [secure site] by MC, VISA or AMEX |
| • RENTALS FOR UNDER $1,000: | Bookings for less than $1,000 - 100% due with Reservation, not 50% |
Note: Until confirmed, rates are subject to change without notice.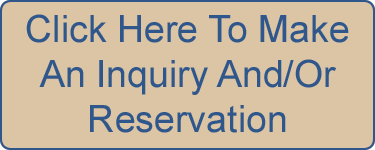 ---
Reviews form our community

"Exceeded All Expectations"
Guest: Jeff, Toucson Stayed: May 2017, traveled as a family
We (Mom, Dad and two teenagers) spent five nights in unit #207 in late May, and couldn't be happier. The unit itself was artfully remodeled and equipped with everything we could possibly need. There's no better location in all of Cabo. Craig was instantly available whenever we had a question. Similarly, the Terrasol staff was much more helpful than I would have expected from a condo complex. I went in thinking that we would be sacrificing resort amenities in order to have a larger space (two bedrooms, two bathrooms and a kitchen, specifically).
In reality, Terrasol functions less like a condo complex and more like a small resort with its own front desk staff, three pools and even a small, poolside breakfast/lunch restaurant that serves surprisingly good food. Craig even hooked us up with a concierge, Michelle Taylor at Vacation Store Los Cabos, who took care of booking all of our excursions.
As far as I'm concerned, Terrasol is the only place to stay in Cabo San Lucas.
---

"Fantastic visit"
Guest: Caffeine_Joe Stayed: November 2016, traveled as a couple
We had the good fortune to spend a night in Terrasol in unit 207. It was thoroughly modern and bright with exceptional decorating taste and decor. Very accessible to the beach restaurant and large pool area. The desk staff and ground attendants were very friendly. Minimal crowds and there was never a problem getting loungers or chairs at the pool. Can't recommend unit 207 high enough.
---

Great location, great vacation!
Guest: Anita, Sidney Stayed: Jan 2016
Stayed in unit #207 (Turtle's Nest) with friends at the end of January. The location was fantastic, very close to Marina and a very quick ride on bus at end of driveway to take you to center of town. The accommodation was clean, comfortable, well appointed, and had everything we needed. The washer and dryer was very handy to do a mid-week load of laundry and could definitely packed a little less. Craig Harrison was very friendly and very easy to work with. He was always available, even when we had a couple of quick questions during our stay. The staff at the resort are wonderful and the swim-up pool bar served excellent food! Our vacation was both relaxing and fun and we've already booked #207 for next year.
---

Terrasol
Guest: Stayed: Jan 2016
Wonderful Vacation Rental. Craig Harrison was awesome to work with, very responsive and attentive! Terrasol Staff, including Carlos and Gerardo were great. The condo was clean, nicely appointed, fully equipped kitchen ( beautiful wine glass and dish ware) . Charming decor with bright colors. Beautiful view from patio. Loved the gas firepit and use of the gas grill for cooking. Very attractive property and super location! We had a wonderful time! You can't go wrong with this rental.
---

Great location !!
Guest: Shannon S. Stayed: June 2015
Awesome place [we stayed in Turtle's Nest - wow]. We usually stay on the Sea of Cortez side so I was a little nervous, but could not have been happier with the location. Absolutely beautiful and relaxing. The food and staff were wonderful. Everyone we talked to had been coming to Terrasol for years. It's a real "hidden secret" and I can see why.
We are already planning our next trip - which is mid-February ....... would love to stay in 207 again, but we are a larger group & Craig [TerrasolBeachResortRentals] allowed us to take a sneak peak at their Penthouse - SOLD !
---

Would choose Terrasol again
Guest Stayed: April 2015
Stayed in unit #207, [Turtle's Nest], friends and family stayed in other units too. Great, safe location. Dishwasher, washer and dryer amazingly good. Wish I would have brought less clothes!
Easy walk to marina. Would get your exercise by walking in town or beach everyday. Pools are good if you want to stay local and have some peace. Beaches ok- but not really safe for swimming. Would definitely stay here again. The food at swim up bar was fantastic. Best tasting steak tacos and very fulfilling chicken salad.
No flies- slept with back doors and windows open all night.
Only complaint is water pressure was slightly weak for showers, but I get it for water conservation.
---

Perfect place to stay in Cabo San Lucas!
Guest: Mike & Brenda E. (Texas), Stayed: November 2014
We were looking for an affordable, quiet, comfortable, relaxing vacation in Cabo and got just that at Terrasol! We stayed in unit 207, the Turtles Nest, which we found on vrbo managed by Craig Harrison. The Renting process was easy and had no issues. Craig was great on keeping us up to date with the damage and repairs after the hurricane in Sept. The condo itself is stunning! Beautifully decorated, comfortable, and awesome sunset views! The resort was great! Very low key and relaxing. The pool was never too crowded/loud. Everything was very well kept and clean. I would have to say my favorite part about staying at Terrasol was the pool bar/grill. THE BEST fajitas EVER with huge sides of guacamole and different salsas (fresca, verde, and roja). I grew up in Texas (so I know Mexican food!) and I could eat their food everyday it was so good. Plus it was cheap, everything ranging from 6-10 bucks and $3 for beer. On top all the above, it was a great location. 5 minute walk to the town for dinning/shopping - no car needed! I would love to come visit again!
---

Just what the doctor ordered!
Guest: Kari R. & Family (Texas), Stayed: December 2013
Hi Craig.
This…is our new vacation home.
We fell in love and have enjoyed every single little detail in Terrasol and Turtle's Nest 207. The Designer MUST be commended for this job! (coming from another designer). We opened EVERYTHING up for the most natural airflow, turn the music on and take it all in. No matter where you are in this unit, the view is picturesque, even from room to room with the gorgeous backdrop of what is outside (Pacific in the distance framed by the beautiful structures, nice property, or the mountain). Comfort is abundant (beds, sling chairs, sofas) with LOADS of nice touches. Kitchen - wow. I want to go more into detail, but I have to get in the shower to (granted our luggage arrives) get ready for dinner. We walked down the beach to the end where my kids, Kody & Hannah rock-climbed (their own difficult course, vs. the one climbing path that is accommodating for passthrough's to the arch side). Anyway, we enjoyed spending the day at the beach due to such a great location. Thank you for the care packages and key chains!
Kody's steaks this evening on the new gas BBQ turned out fabulous and we had a GREAT night on the patio under the stars. We managed not to damage or leave any remnants on this beautiful property !! Kody and Hannah have walked back into town (a market?) to gather more supplies. BTW, your very handy little manual was helpful and nicely done!
There are so many things I would like to elaborate on at a later time. Things that have truly enhanced our experience on this trip. But I need to run now. Oh, WIFI works like a dream. THANK YOU AGAIN !!! [We needed this special Xmas Break - Turtle's Nest in Terrasol, #207 was "just what the doctor ordered"]
---

Beautiful Unit, Great Location, Great Vacation!
Guest: Sunseekers (Vancouver, BC), Stayed: November 2013
I stayed for 2 weeks and had a vacation of a lifetime. Sitting on the deck overlooking the Pacific Ocean I really had no desire to ever leave the unit. Most nights we made our own meals and enjoyed dining on the deck watching the sunsets. Inside beautifully modern which was a nice departure from other rentals we had in Mexico. Definitely would go back!
---