Large 3BR Terrasol condo on the beach - totally remodeled
This Unit [120] is below Unit 219 - groups rent both as 3 & 2 bedrooms "Up-Down"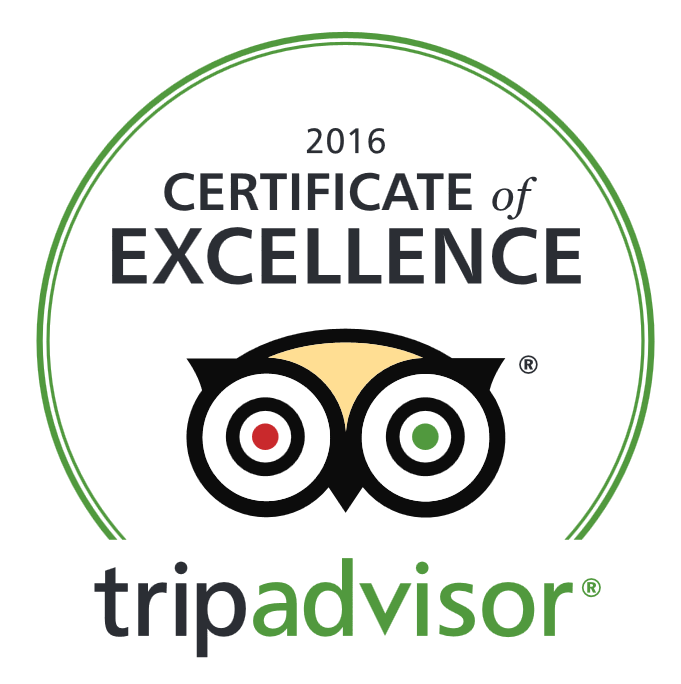 Terrasol Beach Resort
Very Good 4 out of 5
"Certificate of Excellence"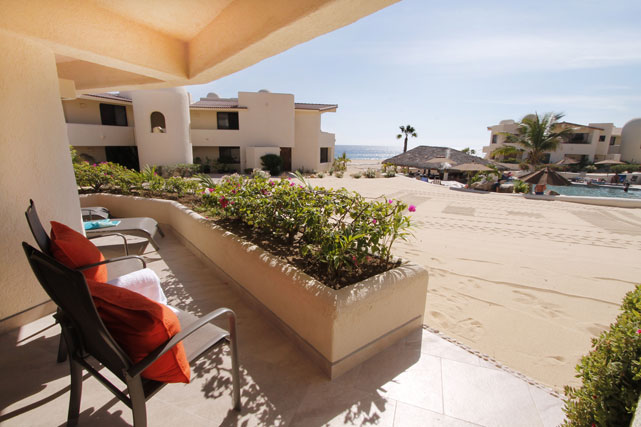 Condo #120
Click Here For Rates
Read Reviews
Click on the first image below to see a slide show of this unit.
'YES' - we have FREE 'SKYPE', WI-FI in the condo, Big-Screen SATELLITE TV, and we accept ALL Major Credit cards !!
OUR CONDO:
• Is built 'on' the beach, less than a KM from the tip of the Baja Peninsula.
• One of the few 3BR units at TERRASOL, this condo is over 2,000 sq. ft, totally remodeled in late 2013 !!
• Main deck wraps around Master and Living Room-Dining Area ........... walk onto the Beach and Main Pool - Palapa Restaurant
• Sleeping arrangements include king beds in the Master BR and the 1st Guest Bedroom, two double-beds in the 2nd Guest
Bedroom. The 2nd Guest Bedroom opens up onto it's own private deck.
• Sleeping capacity: 6 people
• The kitchen is very large, open and fully-equipped, all appliances are brand new
• Brand new Rheem Brand Central AC throughout and ceiling fans, open floor to ceiling glass doors to allow Pacific breezes to
flow through the condo.
• We have a Charcoal BBQ on deck - see PDF provided with Reservation on getting charcoal.
• All of our condos are "non-smoking" indoors - you are welcome to light up on the outside decks, with doors closed.
CONNECTED:
• WI-FI: We have added WIFI to unit 120 - giving you High-Speed, password-protected Secure Internet Access in the condo and
on Decks.
• SATELLITE TV: We have added a Wide-Flat-High-Def Screen TV to the unit, with 100's of channels, feeds from East & West Coast,
all the Sports, Networks, News, Movies, Adult & Kid Channels
• PHONING: With WI-FI, if you download SKYPE onto your Laptop or I-Phone, you can phone free to friends & family, from 120
RATES [in US$'s]:
| | |
| --- | --- |
| SEASONS | |
| • Jan-Apr: | $395/night, $2550/wk, 2 wks for $4800 |
| • May-Jul: | $325/night, $1995/wk, 2 wks for $3750, 4 wks for $6800 |
| • Aug-Sept: | $280/night, $1795/wk, 2 wks for $3300, 4 wks for $5800 |
| • Oct-Dec: | $345/night, $2295/wk, 2 wks for $4300, 4 wks for $7500 |
| • Xmas & New Year Weeks: | $4250/wk [Dec 19-20 to 26-27, Dec 26-27 to Jan 2-3] |
| TERMS | |
| • SECURITY DEPOSIT: | Most Vacation Rental Owners require this - we DO NOT |
| • IMPORTANT: | Rates Include Terrasol Nightly Rental Fees & Mexican 16% IVA Taxes |
| • PAYMENT: | 50% Deposit with reservation, balance 60 days prior to arrival |
| • CREDIT CARDS: | Through PAYPAL [secure site] by MC, VISA or AMEX |
| • RENTALS FOR UNDER $1,000: | Bookings for less than $1,000 - 100% due with Reservation, not 50% |
Note: Until confirmed, rates are subject to change without notice.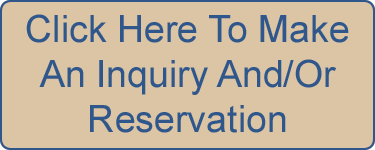 ---
Reviews form our community

"Great condo in Cabo"
Guest: Logan P. Stayed October 2016
We were looking for a place to take our family in Cabo when we found Terrasol Unit 120. It was easy to book through VRBO and Craig and the staff were fantastic. The resort (if you can call it that) was perfect. Quiet and not overwhelmingly huge, it was perfect for our family to relax pool side. It is also located close to the marina for walks to shops and food. Thanks, and we look forward to another stay in the future. Logan
---

"Unit 120 @ Terrasol - great place to stay"
Guest: Bonnie, Vancouver, BC Stayed November 2015
We were getting married in Cabo, and I found this place for my new family to stay at. It was perfect as there were 3 rooms - two with king beds, and one with two double beds (the guests were one couple, one couple with a baby, and two singles).
While I didn't personally stay in the unit, I did spend a little bit of time there. It's been nicely decorated, and the bathrooms are newly renovated (I think they were renovated in Oct 2015). It's actually pretty spacious - it didn't feel crowded at all with all 7 of the guests and five visitors. The unit is close to the pool and the restaurant.
The complex itself is peaceful and quiet. It's nice to be away from the hustle and bustle of town. There are some books in the lobby area, which I think you can borrow. The front desk staff were also very helpful.
Craig was awesome to work with - very pleasant and very quick to get back to me. We would definitely recommend Craig and Terrasol!
---

"For a real vacation in Cabo"
Guest Stayed Octomber 2015
I have been visiting Cabo since 1985. During that time, Cabo has gone from a sleepy fishing village to practically being a suburb of Los Angeles. Nevertheless, I still love coming back, especially to Terrasol. Here you can escape from the hustle and bustle of the harbor and Medano beach. There are no vendors to harass you, just the sound of the pounding surf. I have stayed at 5 or 6 different units at Terrasol, most recently unit #120.
This unit is perfectly situated close to the palapa bar and pool. Your are literally 30 steps from your patio to the swim up bar where Mario will whip up a frozen concoction that will melt your stress away. This unit has 3 bedrooms (two with king beds and one with two single beds) and there are two full bathrooms. The kitchen and bathrooms have been remodeled since the last time I stayed in this unit 1 year ago. There are new large walk in showers with nice Mexican tile work. The kitchen has stainless steel appliances, a quartz counter top and a garbage disposal. This unit is nicely equipped with everything you need for beach vacation. There is reliable wifi and cable TV/DVD, but who really needs that when you are on the beach? The harbor is a quick 10 minute walk.
The only downside to Terrasol is that the surf can be dangerous, such that this is not a swimming beach. There is, however, excellent surf fishing which is one of the things that keeps bringing me back. If you are lucky enough to catch something, have Poncho cook it for you in the palapa bar (at $6 a person it is the best deal in baja).
---

"Terrasol heaven!"
Guest Stayed September 2015
My husband and I love unit 120! It's our second time in the condo and we'll probably be back for a third! The condo is lovely and HUGE!. It is also located steps away from the pool, beach and pool bar! The pool bar is manned by the wonderful Mario who is a great friend that makes great drinks, they also have great food :)
Cabo is also a great town with lots to do and wonderful food! What I love about terrasol is that anything you want to do is only about a 10-15 minute walk away. Terrasol is perfect for a relaxing vacation and close enough to the action if you want to have some fun. Highly recommended!
---

"Terrasol 120"
Guest: Vic, Anna and Andre Bruno, Moab Utah, Stayed November 2013
So far our place and this stay has been Terrific,we have been here 12 days and have 3 more days to go, and will be sad to leave. Communication with Craig Harrison has been second to none.
Now let me tell you, Terrasol may not be for everyone, there is an enormous difference between units, we had the chance to look at 3 of them and they looked all great, but talking to other guests it is all about the unit you rent, its location in the resort and if it has been recently remodeled or not. Unit 120 has been very recently almost completely remodeled and it worked great for us, it is very large and the floor plan is great! It has all new appliances fridge, washer/dryer dishwasher oven, microwave and all the kitchen utensils and kitchenware is brand new. I cook a lot, so sharp knives are important to me, and everything else is brand new, towels sheets and linens. The only thing they will have to work on next are the bathroom faucets and the bathroom grouting. Everything works and you will not regret staying here! The unit opens up to the front looking at the Pacific Ocean and the heated swimming pool and the Palapa Bar, in the back to a small patio area where you see the Hotel 200 yards away. There are no vendors and no timeshare people here. It is very quiet and there is an incredible beach to take very long walks on and incredible waves to look at. Very few can swim in this ocean and having been an ocean boy since I was born, for me it worked perfectly but if you are not a very strong swimmer ready to get slammed by 20 foot waves I would not even get close to where the sand is still wet.
If you are into fishing this is the place to be at!!! I fished every morning walking the 100 feet that separated us from the white beach. I bought a $70 pole from Jensen in town and some lures, asked the guy what works and caught many different kinds of fish, one of them must have been over 20 pounds because after a half an hour of incredible fight snapped my line (22 pound test). From the beach you will have the opportunity to see both amazing sunrises and colorful sunsets over the ocean horizon.
This is Mexico, things work a little slower here, but they work!
If you have anything that needs fixing in this unit or in the other ones he manages and owns, you ask Craig Harrison and he will get you taken care of. But If you only complain about things at the pool with the other guests around you, nothing will get taken care of , you'll ruin your day and the one of the rest of the people around you. There are some very luxurious options at this resort and some that are very not. Here you definitely get what you pay for, and it would be my recommendation to deal directly with the owners. I will rent this unit again for the many great things it has to offer and location, location location.
Thank you again for giving me a chance to stay here Craig. Vic, Anna and Andre Bruno.